Joseph Monninger has written the most beautiful love story imaginable titled
"Eternal on the Water"
. This book is filled with unforgettable characters and breathtaking scenery described in such clear detail that you can easily imagine being there. Right from the first page, I was cheering for Mary Fury and Jonathan Cobb and their unlikely relationship. Neither of them were looking for romance in their lives, but from the first moment they met, they fell immediately in love and there was no turning back. This is a beautiful love story that progresses so quickly and I wanted a happy ending for these two that were so much in love. But it was over too quickly, and all too soon they had to deal with the pain and uncertainties of illness, heart wrenching decisions and eventual loss.
Eternal on the Water
touches on a very controversial subject, and even though I wouldn't normally agree with the choices they made, I still couldn't help but be touched by the heart-breaking yet beautiful ending of the story.
Read this book, you won't be sorry.
Thank you to
Barnes and Noble
for a complimentary copy of this book for review and group discussion.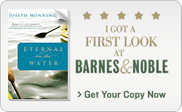 Eternal on the Water
will be released for purchase on February 16 and can be pre-ordered at
Barnes and Noble